Access and Benefit Sharing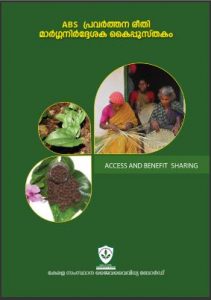 The Convention on Biological Diversity was opened for signature on 5 June, 1992 at the United Nations Conference on Environment and Development (the Rio "Earth Summit") and entered into force on 29 December, 1993. The Convention is the only international instrument comprehensively addressing biological diversity. The objectives of the Convention are:
Conservation of biological diversity

Sustainable utilization of biological diversity

Fair and equitable sharing of the benefits arising out of the utilization of genetic resources.
The third objective of the convention emphasizes the access to the genetic resources and its fair and equitable benefit sharing. The Convention on Biological Diversity (CBD) provides national governments with sovereign rights over genetic resources and associated traditional knowledge with the aim to ensure that countries receive a fair share of benefits from their biological resources and traditional knowledge in return for conserving and allowing access to these resources. The Biological Diversity Act 2002 and Rules 2004 by Government of India is a landmark legislation which provides for regulated access to bio resources for commercial utilization or for bio-survey and bio-utilization. The effective implementation of Access and Benefit Sharing (ABS) provisions in the territorial jurisdiction of India is dealt with in the Sections 3, 4, 5, 6 and 7 of Biological Diversity Act 2002 and in the Biological Diversity Rules 14-20
Procedure for access to collection of biological resources for commercial utilization
As per Section 7 of Biodiversity Act 2002 and Section 16 of Kerala Biological Diversity Rule, 2008, any Indian citizen or body corporate or association or registered organization should seek approval of the Board for access to collection of biological resources in Kerala for commercial utilization or bio-survey and bio-utilization for commercial utilization. Any person who intends to have access to biological resources , including access to biological resources harvested by Joint Forest Management Committee/ Forest dweller/Tribal Cultivator/Gram sabha for commercial utilization shall apply to KSBB.
· The application shall be in prescribed Form-1 along with Form A annexed to the regulations on Access to Biological Resources and Associated Knowledge and Benefits Sharing Regulations, 2014.
· Application shall be accompanied by a fee of Rs. 1000/- (in the form of a cheque or demand draft drawn in favour of Member Secretary, Kerala State Biodiversity Board, Thiruvananthapuram from a nationalized bank).